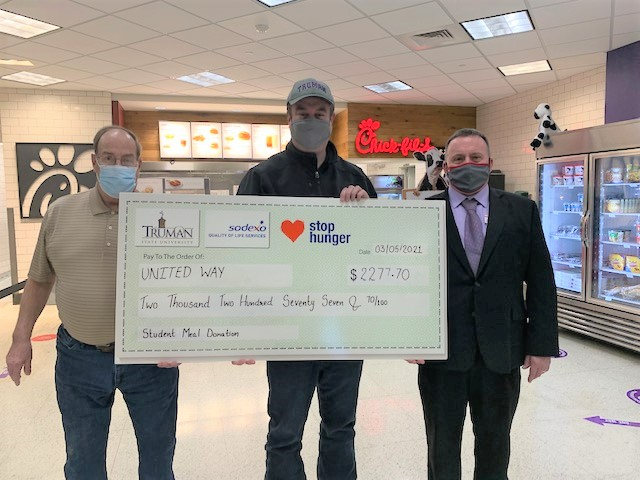 The annual Truman State and Sodexo Foodfast which was held the end of January raised $2,277 for the United Way of Northeast Missouri (UWNEMO).
"The annual Foodfast has been a tradition of the United Way, Truman and Sodexo for over sixteen years," said Bertha Thomas, United Way Board President.  "It provides a way for Truman Students to contribute and support our eleven agencies who provide important services here in Northeast Missouri," she added.
"Residence Life is proud to sponsor this fundraiser each year with our partners at Sodexo. The Truman students never cease to amaze with their compassion for northeast Missouri and generosity in their giving. We look forward to this continued partnership and support for years to come,." Said Zach Burden, Truman Coordinator for Residence Life – Student Life and Development.
John Stewart, Sodexo General Manager stated that students on meals plans notify Sodexo that they would like to donate a certain number of prepaid meals.  Sodexo in turn takes those meal funds and makes a charitable donation to the United Way.