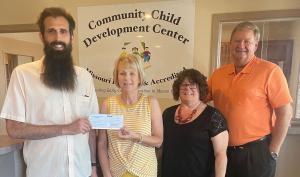 The United Way of Northeast Missouri (UWNEMO) recently provided a grant to the Macon Community Child Development Center (CCDC) to provide staff training for three CCDC staff members in the Emerging Language and Literacy Curriculum.  The training is provided by the Center for Family and Policy Research with the University of Missouri.
Our United Way is reaching out to provide grants to not-for -profit organizations who can demonstrate a need for special funding," said Ted Frushour, UWNEMO President.  "Our Board was impressed that the CCDC works closely with businesses in the Macon County area to provide reliable childcare for employees by reducing absenteeism and turnover," Frushour added.
The CCDC provides quality care and education for up to eighty children.  Currently the center serves children birth to five years of age year-round from 6:30 a.m. to 5:30 p.m for all socio-economic levels.  The Center offers educational learning opportunities based on children's age and stage development. 
"Each age group: infants, toddlers and preschoolers have separate learning environments based on their developmental levels," said Patricia Knowles, Center Director.  "These learning classrooms house state-of-the-art materials and equipment to engage children in learning through planning and appropriate learning activities," she added.
The United Way of Northeast Missouri annually provides funding for 11 not-for-profit agencies in northeast Missouri.  UWNEMO agencies who provide services to Macon County include RSVP, Hospice, Macon Diversified Industries, Boy Scouts of America/Great River's Council, and the Girl Scouts of Eastern Missouri.